HEAR NOW Music Festival 2023
Thursday, April 13 through Sunday, April 16
Venue for all concerts:
2220 Arts & Archives (Main Theater)
2220 Beverly Blvd., LA 90057
---
Tickets are available through Tix.com
Thursday, April 13, 8pm — Electroacoustic concert
Friday, April 14, 8pm — "Music and…" Multidisciplinary Concert
Saturday, April 15, 2pm — Chamber Concert I
Sunday, April 16, 5pm — Chamber Concert II
---
Package discounts available
You won't want to miss a thing. You can purchase a festival subscription (all four concerts), which offers a 15% discount.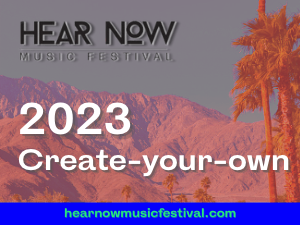 If you prefer, you may also choose a combination of two or more concerts at a 10% discount. Just set up your order and use the code HN23Create to claim your discount.
---
Make sure you're on our mailing list, so you always get the latest updates!