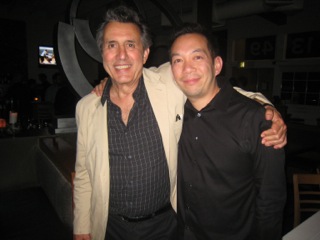 Founded in 2011 by composer Hugh Levick and cellist of the Lyris Quartet Timothy Loo (both pictured here), the HEAR NOW Music Festival's mission is to promote the breadth and diversity of concert music being written by composers living and working in the LA area by presenting concerts and informative activities of high artistic quality to the public.
Artistic goals include:
To foster the recognition of Los Angeles composers and their unique voice in contemporary music.
To connect composers with musicians.
To nurture dialogues that explore the values of today's concert music.
Milestones
Since its first two-concert festival in 2011, the Hear Now Music Festival (HN) has provided an ever-broadening spotlight on the musical imagination of composers based in the Los Angeles area. The results from the festivals so far are 184 works by 161 individual LA-based American composers — some known, and many others unknown to audiences.
For the 2014 festival, HN began seeking partnerships with other music organizations to broaden its scope beyond chamber music and expand to a third concert. The success of our six-year festival partnership with People Inside Electronics (PIE) continues with festivals presenting innovative uses of electronics in concert music.
In 2015, HN began a partnership with the Los Angeles Chamber Orchestra (LACO), a leader in presenting wide-ranging repertoire and adventurous commissions. LACO selects several pieces their musicians will perform in the festival, often engaging their artist-in-residence.
A biennial collaboration was started in 2016 with the UCLA Philharmonia, a high-level student orchestra, to present new and recent orchestral works by LA composers.
In 2017, HN presented outreach concerts in locations including LA City College and Chapman College. Festival composers spent a day at each college preparing the students to experience the program.
In 2018, HN partnered with the Harmony Project for a workshop and outreach concert for underserved and at-risk school-aged music students.
Selection process
The composer submission review process is anonymous, and a panel of 10 musicians and composers rates the submissions. Personal information is shared with the committee only after the programs have been determined. Those with the highest rankings are presented at the festival. In the 2021-22 Open Call submission process, HN received over 250 compositions for consideration, about 50% more than in previous years. With the open call for submissions, HN received about 30% from women composers, and about 25% representing the many diverse cultures in Los Angeles.
Impact
HEAR NOW has become an essential musical experience for the concert-going Los Angeles public. The support and encouragement of HEAR NOW's Honorary Artistic Advisor, Esa-Pekka Salonen, has validated the premise of the festival among the public. Numerous composers –emerging and mid-career– have been brought to both critical and public attention and HEAR NOW has served as an incubator for the discovery of new talent.