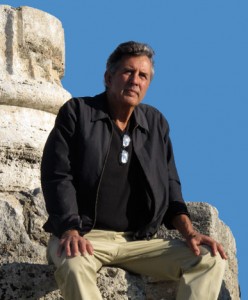 Graduating cum laude from Yale University, and with an MFA from the Iowa Writer's Workshop, Hugh Levick set off for Paris to write a novel. In Paris he returned to his musical beginnings and the saxophone, studying and playing with Anthony Braxton, Steve Lacy and the Chicago Art Ensemble, amongst others. Later in NYC he studied composition at Julliard with Stanley Wolfe and David Diamond, and privately with John Cage and Vinko Globokar.
During the 1980's and 1990's in both the US and France, Levick composed , directed and performed the music for over two dozen stage productions. Levick's solo performance piece, KID COPY, for a musician and his pre-recorded video double, was produced by the EDAC of Poitiers, France and toured in both France and the US. It was performed in the Bing Theatre at LACMA where two concert readings of his chamber opera , THE EMBRACE OF REASONABLE TERROR, were also given.
For the Brooklyn Bridge Centennial Celebration Levick was awarded grants by the NEA and the NY State Council for the Arts to create the Imago Ensemble, a combination of live and video-taped musicians. He also received an Artist-in – Residence award from PASS in NYC, and was awarded a studio in the Cite International des Arts in Paris.
Levick has written the libretto and the music for an opera, BANG FOR THE BUCK, and has adapted Kafka's first novel, AMERIKA, into an opera enitled THE MAN WHO DISAPPEARED. NOSOTROS- a violin solo with electronics— was premiered by Davis Brooks in 2006, and will be included on Brooks' CD of pieces mixing electronics and the violin.
In April, 2010, Ben Perrone's On Going War Installation opened at the Burchfield-Penney Museum in Buffalo NY using WMD—WAR MAKES DEAD—Levick's cello solo as an integral element. Also in April, 2010, the world premier of Levick's string quartet, MORNING EVENING LOVE BEARS ALL, was performed by the Denali String Quartet in Los Angeles.
In May, 2011, HEAR NOW…A Festival of New Music by Contemporary Los Angeles Composers, created by Levick and attended by SRO audiences, took place in Venice, CA. In 2012 Signature Records, the dynamic and eclectic label sponsored by Radio France Musique will produce and record the DIOTIMA STRING QUARTET playing Levick's three string quartets: MORNING EVENING LOVE BEARS ALL, EMPIRE Inc., and THE UNIMAGINED: PREPARATIONS FOR THE UNKNOWN. In April, 2012,the DIOTIMA STRING QUARTET will perform EMPIRE, Inc. at The Library of Congress in Washington, DC, and in April, 2013 the DIOTIMA will perform Levick's three string quartets as part of the Interpretations Series at Roulette in Brooklyn.